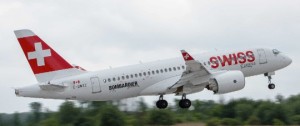 Bombardier announced on June 15, 2015 that CSeries launch operator SWISS has converted 10 of its 30 firm orders for CS100 aircraft to the larger CS300 aircraft.
The original purchase agreement for 30 CS100 aircraft was signed by Deutsche Lufthansa on SWISS' behalf and was announced in 2009.
Bombardier has booked orders and commitments for 603 C Series aircraft, which include firm orders for 243 aircraft.