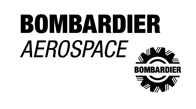 On March 7th, 2013, Bombardier Aerospace released an update to the progress of its CSeries program. According to the release, the aircraft is making progress and the company is beginning to transition to the flight test phase in order to conduct the program's first flight by the end of June 2013.
Bombardier confirmed that it has introduced an extra capacity seating option that will increase the CS300 aircraft seating to up to 160 passengers and confirmed that airBaltic selected the 148-seat high density version for its aircraft.
The CS300 aircraft's systems' capacity has been increased to accommodate higher passenger capacity. The extra capacity option requires the addition of a second pair of over-wing exit doors, will be available both in-production and as a retrofit option.
As of December 31, 2012, Bombardier had booked orders and commitments for 382 CSeries aircraft with firm orders for 148 CSeries aircraft.