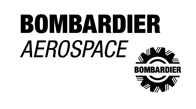 It was announced on May 28th, 2013 that the Superior Court of Justice of Ontario ruled in favor of Estonian Air after Bombardier sued the airline for 19 million euros for breaking an agreed to contract.
Bombardier's claim was that the Estonian government had improperly influenced Estonian Air, causing the airline to end negotiations in favor of Brazilian aircraft manufacturer Embraer.
The ruling indicated that the court lacked the jurisdiction over the Republic of Estonia that would allow it to look into the claim. There could be specific statutory exceptions to the jurisdiction limitation, but the court indicated that Bombardier had not supplied proof that those exceptions were applicable in this case.
Bombardier was seeking damages from Estonian Air for cancelling an order for CRJ900 NextGen aircraft that it had with Bombardier and instead leasing Embraer aircraft in their place.