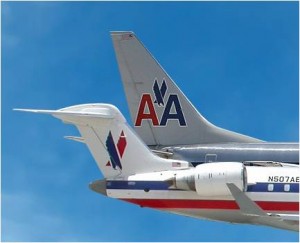 AMR Corporation, the owners of American Airlines and American Eagle, has indicated that it will meet all debt obligations on its Bombardier CRJ700 fleet during the first few months of its Chapter 11 reorganization. The decision thus indicating that the regional jets will be included in the company's restructured fleet plan.
The information is contained in a new filing with AMR's bankruptcy court that invokes Section 1110 of the U.S. bankruptcy code. This section allows lenders to repossess their aircraft within 60 days of a Chapter 11 filing unless the carrier "cures the default" by meeting its obligations.
AMR says it will, adding the information that only 19 of its 47 CRJ700s hold any cure amount, and the total exposure the company is facing amounts to about $10 million. According to the filing, the remaining 28 aircraft have no such payment.
The airline's fleet is set for a major overhaul with plans to reduce its MD-80 fleet as well as the ATR fleet operated by American Eagle's sister company, Executive Airlines. AMR also has issued Section 1110 notices on some of its Boeing 777-200s and a handful of 737-800s, and has gained court approval to buy a number of 737s already on order.
American Eagle's plans for its aging Embraer regional jets have not been announced, however it is expected that this fleet will be severely reduced.