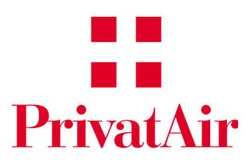 Bombardier announced this afternoon that PrivatAir of Switzerland has placed a firm order for five CS100 airliners and has taken options on an additional five CS100 aircraft.
This order makes PrivatAir the 11th customer for Bombardier's next generation of aircraft.
The CSeries aircraft acquired by PrivatAir will be delivered in an all-business class configuration according to a press release from Bombardier released today.
PrivatAir operates a fleet of commercial and business aircraft which provide private charter and private airline services. Its services also include exclusively business class flights on behalf of several major network airlines.
Including the order from PrivatAir announced today, Bombardier has booked firm orders for 138 CSeries airliners. Other customers include Republic Airways (40 CS300 aircraft), Deutsche Lufthansa AG (30 CS100 aircraft), Lease Corporation International Group (17 CS300 and three CS100 aircraft), Korean Air (10 CS300 aircraft), Braathens Aviation (five CS100 and five CS300 aircraft), an unidentified major network carrier (10 CS100 aircraft), an unidentified European customer (10 CS100 aircraft) and an unidentified airline (three CS100 aircraft).
The CSeries aircraft program has also booked options for 124 aircraft and purchase rights for 10 aircraft, as well as Letters of Intent for up to 30 CSeries aircraft from Ilyushin Finance, and for up to 15 CS300 aircraft from Atlasjet.