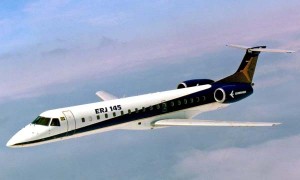 According to news reports, it appears that the first Embraer ERJ-145s to be retired from service and earmarked for scrapping have been purchased by Aerovision International. The company is well known in the aviation industry for purchasing and parting out various aircraft.
The company has obtained a total of ten ERJ-145s from Mesa Airlines who removed more than thirty of the type from its fleet during Chapter 11 bankruptcy in 2010. Mesa still has for sale the balance of their ERJ-145s that were removed from service at that time.
The ten ERJ-145s are currently located at Hot Springs Arkansas awaiting their fate.
Aerovision has not publicly indicated if they will scrap or sell on the 145s, but the ten in storage may not be attractive to prospective buyers.
The used market value for an ERJ-145 currently fluctuates around $3 million US. Much below this price and it is more economical to part out the airframe and scrap the remnants.