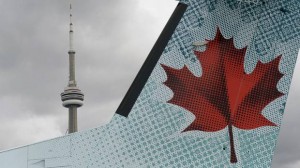 In an announcement from Air Canada on October 1st, 2012,  the airline plans to transfer its fleet of Embraer 175s to its regional partner  Sky Regional Airlines early in 2013.
Sky Regional has been operating Air Canada's services from Toronto Island using a fleet of five Bombardier DHC-8Q-400s. The transfer of the Embraers will mean that an additional 15 Embraer 175s will be added to the regional airline's fleet and it will be expanding its routes. This expansion will not however mean that the Embraers will be operating from Toronto Island as jet aircraft are banned from that airport.
Plans are that the Embraers will be transferred to Sky Regional between February and June 2013 according to Air Canada's announcement. Routes to be operated will be from Toronto and Montreal to the northeast United States and the aircraft will be repainted into Air Canada Express colors.
These changes were foretold earlier this year when Air Canada's contract with its pilots was altered and allowed for more regional partners in its network. It is likely that Air Canada will add further Q400s and larger regional jet aircraft, such as the CRJ-700 to its fleet to support its regional carriers.