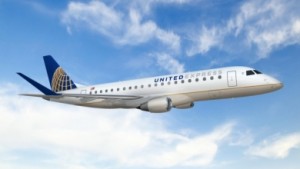 On PAril 29th, 2013, United confirmed an order with Embraer for 30 Embraer-175s with an option for further aircraft that United will lease to its regional subsidiaries. The aircraft will be delivered starting in 2014 and all aircraft as expected to be in service by the end of 2015.
The aircraft's interior will be 12 First Class seats, 16 Economy Plus seats, and 48 economy seats. United's regional partners currently operate 38 Embraer 170s and 115 CRJ700s.
The aircraft will replace some of the 350 smaller, less efficient 50-seat regional jets now being operated.