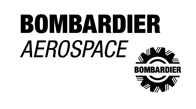 Bombardier announced during a shareholder's meeting on May 9th, 2013, that the planned goal of the first light for the CSeries program is still set for June 2013.
Bombardier had 145 firm orders as of March 31, 2013, but announced that an undisclosed buyer cancelled its order for CSeries aircraft "due to financial difficulties of the customer," The unnamed customer also had options for three aircraft.
Bombardier is targeting 300 firm orders by the time the CSeries enters commercial service in mid-2014 and expects the aircraft to almost double annual revenue in the next decade for the company.
Bombardier's profit in the three months of 2013 rose to $156 million from $150 million in the same period of 2012. Revenue rose 25 percent to $4.34 billion, which exceeded estimates of $4.16 billion.
Bombardier delivered 53 planes in the first quarter of 2013, 43 percent more than the first quarter of 2012, including 39 business aircraft, up from 29.
Bombardier confirmed its target for 2013 aircraft deliveries would be 245 from 233 in 2012. The forecast includes 190 business aircraft and 55 regional aircraft.