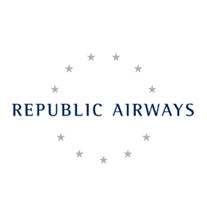 On September 17, 2014 Republic Airways announced a fleet restructuring that will result in the removal of the Q400 from the airline's fleet. The decision was announced in conjunction with an order for an additional 50 Embraer 175s to be added to the airline's fleet.
The airline intends to sub-lease 24 Q400s to Flybe and the remaining aircraft will be either sold, leased or returned to the lessor. Some of the Q400s were previously operated by Pinnacle airlines and were transferred to Republic in 2012 when an agreement was reached with United Airlines to operate the aircraft.
Embraer 175s in this new order will begin deliveries in July 2015. The aircraft will be operated by Republic's Shuttle America subsidiary for United Airlines under United Express colours.
In January 2013 Republic placed an order for 47 Embraer 175s of which 34 have been delivered. Republic has 32 additional options of the type in addition to this new order.