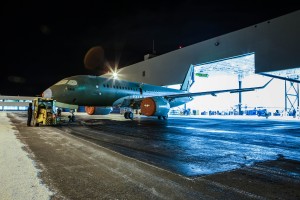 Bombardier appears set to resume flight testing for the CSeries in early September after months of delays.
The flight test program came to a halt in late May after the program suffered an engine incident on FTV-1. The program has not operated any flight tests since that date. Delays in the arrival of new engines from Pratt & Whitney caused the flight test stoppage, but engines have been arriving over the past few weeks.
All four test aircraft are in the process of having the new engines installed and ground tested before the first flight can be operated. The delay has put into some doubt whether Bombardier can meet the program's entry-into-service date.
Bombardier has indicated that  it still expects the smaller version of the CSeries to enter into service by the second half of 2015, but further delays could push the date into 2016.