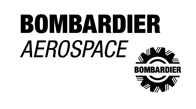 On June 26th, 2013 Bombardier announced a further delay of a month for the first flight of the prototype CSeries aircraft.
This delay results in the program being seven months past its end of 2012 original target date, assuming that the flight occurs by the end of July 2013.
Bombardier indicated that additional time was needed for upgrades to the aircraft's flight control system which were described as being minor in nature and others being on safety recommendations by the test pilots..
The company said that "in order to enhance the effectiveness of the flight program, Bombardier extended the timeline slightly to allow for additional software upgrades for improved system maturity and functionality."
Bombardier also indicated that no further postponements of the CSeries' first flight were expected.