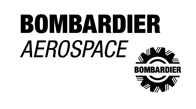 Bombardier announced today that the CSeries aircraft program is on schedule for a late 2013 entry into operational service. The program has begun the first series of systems tests and simulations and these tests will continue throughout 2012 prior to flight testing of the aircraft.
The program has had its suppliers undertaking system, component and materials testing prior to the assembly of the prototype aircraft at Bombardier's final assembly plant in Montreal. As well, Pratt & Whitney has over 1,300 hours of engine testing accomplished to date on the PW1500G powerplant it is suppling to Bombardier for the program.
The program still has the first flight of the prototype aircraft scheduled for the end of 2012 with all flight testing completed by the summer of 2013 prior to initial deliveries to customers.