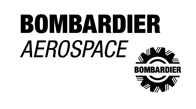 Bombardier called the Farnborough International Airshow a success today in that the company announced $3.27 billion in firm orders and options for DHC-8Q-400 NextGen, CRJ and CSeries aircraft.
While Bombardier did not capture a regional jet order from SkyWest that went to Mitsubishi, there is still the possibility of the airline purchasing more aircraft from Bombardier in the future.
It is expected that in the near future when the first CSeries aircraft begins its initial flight test program that further orders will be announced. However, there is some issues with the fly-by-wire system for the program and there could be delays in completion of the first aircraft. Bombardier has indicated that there is enough leeway in the schedule to compensate for the issues, and still plans first flight of the CSeries to occur by the end of 2012.