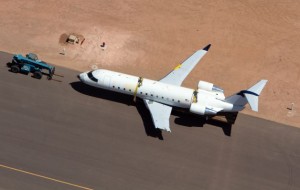 It has been reported through many media outlets that a SkyWest CRJ-200 has been destroyed at the St. George Municipal Airport in Utah on July 16th, 2012.
The aircraft was stolen by a former SkyWest pilot who was on administrative leave from the airline and was under investigation in connection to a murder.
The pilot accessed the aircraft and then, over a short period of time, severely damaged one wing, and possibly broke the spine of the aircraft before eventually tearing through a perimeter fence at the airport before ending the incident in a parking lot.
Further to those reports, the aircraft in question is CRJ-200ER N865AS (MSN 7507) which was on lease to SkyWest from Atlantic Southeast Airlines in Delta Connection colors.
Based on photographs of the aircraft after it was removed from the parking lot by crane, it is unlikely that the aircraft will be repaired and returned to service.
MSN 7507 was built May 11th, 2001 and served first with Atlantic Southeast Airlines before flying for Comair and then ending its service career with Skywest.
It is assumed that the aircraft will not be repaired as most CRJ-200s are being removed from the Delta Connection fleet in the near term. Scrapping of the aircraft will likely occur on site after an ongoing police investigation has been completed.