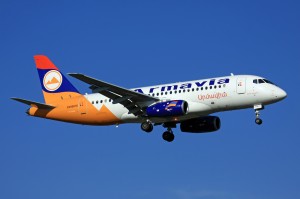 Armavia on August 6th, 2012, announced that it had ceased operating the single example of the Sukhoi Superjet in its fleet and has indicated that it will not accept future deliveries because of issues with their aircraft.
The airline had previously delayed delivery of their second aircraft from the manufacturer. Armavia has publicly indicated that the reason for doing so is because of various technical problems with the aircraft they have received. Sukhoi has responded that the issue is not in the performance of the aircraft, but rather is the financial situation of Armavia itself.
Regardless of the reason for the dispute, Sukhoi notes that Armavia cannot simply return the Superjet that has been delivered, nor has Armavia apparently given notice to Sukhoi that it wishes to terminate their contract. Sukhoi did indicate that as far as they are concerned, the issue with Armavia is a matter of financing and placing of both Superjets in the airline's fleet under a leasing agreement.
Armavia's response is that the Superjets are not meeting their performance targets, maintenance costs are higher than promised, and as such the airline does not wish to be the test program for Sukhoi.
Both Armavia Superjets are currently parked at Moscow's Zhukovsky airport and are not in service.
The aircraft in question are:
EK-95015     MSN 95007
EK-95016     MSN 95021
Armavia has indicated a willingness to consider aircraft from Western manufacturers to replace the Superjets in the future though no specific company has been mentioned.