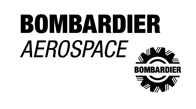 The FAA released an airworthiness directive that orders Bombardier CRJ200 operators to remove certain Goodyear main landing gear tires from service because of a wear problem that could lead to tire failures.
The order pertains to Goodyear tires that were constructed in Brazil and reflects an ongoing problem with tread separation issues on these tires in the CRJ200 fleet. According to the circular, new tires are effected by this order, but retreaded tires are not.
This issue first appeared in April 2012 and other international civil aviation authorities such as Australia's Civil Aviation Safety Authority, the European Aviation Safety Agency and Transport Canada, have demanded the tire changes.
The FAA says its directive could result in over 3,400 tires being removed from service.