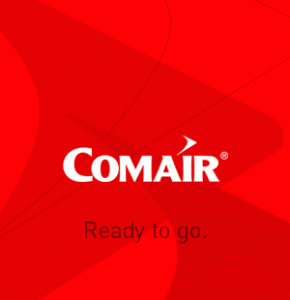 On this date, September 29th, 2012, a milestone in the history of worldwide regional jet operations will be reached when Comair operates it's final flight today.
Comair was formed in 1977 and pioneered the regional jet era by introducing Bombardier CRJ regional jets to North America in 1993 and operated for more than thirty-five years.
At one point the largest regional jet operator in the world, the airline had been downsized by its owner, Delta Air Lines, over the preceding years until an announcement was made on July 27th, 2012 when it was announced that Comair was no longer a viable operation for Delta and would be closing as of September 29th, 2012.
At one time, operating under the Delta Connection banner, Comair operated passenger services across the United States, Canada, Mexico and the Bahamas.
Comair was established in 1977, and was founded by Patrick J. Sowers, Robert T. Tranter, David Mueller and Raymond Mueller. It  began scheduled services from Cincinnati with two Piper Navajo aircraft. Over time the airline grew until in 1984, an agreement was reached with Delta Air Lines to operate as The Delta Connection. In 1986, Delta Air Lines acquired 20% of Comair stock. Delta Air Lines acquired full ownership on October 22, 1999 at a cost of over 2 billion dollars.
Comair transitioned to an all-jet operation on September 1, 2002. Over its lifetime, Comair operated all versions of the Canadair Regional Jet with the exception of the CRJ-1000 aircraft.
The airline suffered three major accidents in its history:
On October 8, 1979, Comair Flight 444, a Piper PA-31 Navajo light aircraft, crashed shortly after takeoff from Cincinnati-Northern Kentucky International Airport.
On January 9, 1997, Comair Flight 3272, an Embraer EMB 120 Brasilia aircraft, crashed while on approach into Detroit Metropolitan Wayne County Airport.
On August 27, 2006, Comair Flight 5191, a Bombardier CRJ-100ER aircraft, crashed while taking off from Lexington's Blue Grass Airport.
Comair's final flight into Cincinnati/Northern Kentucky International Airport will land at 7:30 PM local time after departing from George Bush Intercontinental Airport in Houston. The final Comair flight will land in Minneapolis on the evening of  September 29th, bringing Comair's history to an end.
The closure of Comair will mean the loss of over 1,700 jobs in the airline industry.