This is one in an ongoing series of articles on Winglets that will summarize past airlines and other operators of CRJ aircraft that are no longer in existence.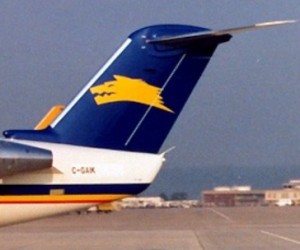 Dac Air
Romanian Charter Airline
Operated 1995-1998
Formed by Tarom
Number of CRJs Operated: 2 CRJ-200LR
3 CRJ-200LR On Order, but Cancelled
Dac Air was a Romanian charter airline that was formed by Tarom to operate short and medium length routes within Romania and the surrounding region of Europe. The history of this airline was a troubled one as some aircraft ordered by the airline were painted in its colours, but not delivered, or delivered and not operated or other odd situations occurred. Eventually the airline ceased operations and all aircraft were returned. Dac Air had planned to operate a mix of CRJ-200 and DHC-8-300 aircraft, and had several of both types painted in its colour scheme.
CRJ Fleet
Dac Air operated a total of two Canadair Regional Jets in its fleet, all being CRJ-200LR series aircraft:
MSN 7137           YR-GPA (To LV-ZTB)           CRJ-200LR
MSN 7139          C-GBBY (YR-GPC NTU) (To LV-ZTC)           CRJ-200LR
The second aircraft, 7139, did not actually enter service with Dac Air, but instead was subleased to Lufthansa Cityline for a time. Before the airline ceased operations, Dac Air also had on order three additional CRJ-200LRs which were painted and registered, but were never delivered:
MSN 7138           YR-GPB (To B-4005)           CRJ-200LR
MSN 7149           YR-GPD (To B-4006)           CRJ-200LR
MSN 7170           YR-GPB (To S5-AAE)           CRJ-200LR