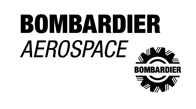 Bombardier announced on December 19th, 2012 that an undisclosed airline based in the Americas had signed a letter of intent to purchase 12 CSeries aircraft. The deal also includes an option for 18 further aircraft.
Bombardier indicated that the airline requested to not have its name revealed at the time of the announcement by Bombardier and the company did not reveal when the LOI might be converted to a firm order.
The agreement announced is in addition to the current order book that Bombardier holds for 138 firm and 352 commitments and options for the CSeries.