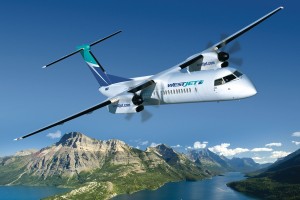 WestJet announced on February 14th, 2013 the first routes to be operated by its regional carrier Encore including new services to Fort St. John and Nanaimo, British Columbia. The services will be operated by Q400 aircraft.
The airline will also operate service between Vancouver and Victoria. Routes will be Calgary and Fort St. John, Fort St. John and Vancouver, Vancouver and Victoria, all of which are expected to be in operation in June 2013.
Encore expects to take delivery of its first two Q400s at the beginning of June 2013 and add five more by the end of 2013. Encore has firm orders for a total of 20 Q400s and options for an additional 25 over the next six years.