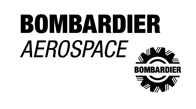 Bombardier has given signs that it is proceeding with plans to offer the CSeries aircraft to Japan Airlines and All Nippon Airways with both airlines having received a briefing from Bombardier on the CSeries recently.
Bombardier's aircraft products have been operating in Japan for well over 20 years and believes that its track record with the CRJ and DHC-8 aircraft series will give them an advantage to offering the new CSeries to both airlines. Currently there are 56 Bombardier aircraft of all types being operated in Japan.
Bombardier will however face competition from Mitsubishi as that aircraft manufacturer also attempts to convince its home nation airlines to purchase its new MRJ aircraft. Mitsubishi won its first order for 15 Mitsubishi Regional Jets, plus 10 options, from ANA in 2008, but has not seen any further orders for the type in Japan.
Currently Bombardier retains 138 orders for the CS100 and CS300 with Republic Airways holding the largest order for 40 aircraft. Mitsubishi holds 230 orders for the MRJ with SkyWest holding the largest number of orders for the type. The MRJ is expected to make its first flight later in 2013 and plans to deliver the first aircraft in 2015.