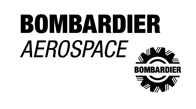 Bombardier Aerospace announced on February 20th, 2013 that Ilyushin Finance Co. signed a purchase agreement for 32 CS300 aircraft and options on an additional 10 CS300 aircraft. The transaction, which follows a letter of intent signed by IFC in 2011, is subject to approval by the company's shareholders.
Currently, 95 CRJ and Dash 8/Q-Series aircraft are in service or on order in Russia and the Commonwealth of Independent States. Bombardier is also offering the Q400 NextGen turboprop aircraft in Russia as well.
As of December 31, 2012, Bombardier has orders and commitments for 382 CSeries aircraft with firm orders for 148 CSeries aircraft.