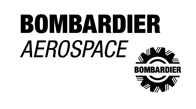 On May 1, 2014, Bombardier announced the company's first quarter results. The company posted a 22 per cent drop in earnings in the first quarter and nearly doubled its use of cash.
Bombardier's net aircraft orders increased to 91 from 28 in the first quarter of 2013. At the same time, Bombardier delivered 56 aircraft during the quarter, three more than the same period in 2013.
Bombardier received 17 firm Q400 turboprop orders from six customers in the quarter and 16 CSeries were also ordered with an option for 10 CS300s. Bombardier has received commitments for 447 CSeries from 18 customers in 15 countries, including 203 firm orders.