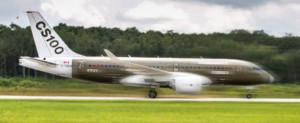 On May 1st, 2014, Bombardier announced that the CSeries program had cleared the altitude and speed extremes of the aircraft's flight envelope.
As well, Bombardier noted that the fourth test aircraft (FTV-4) would be taking flight shortly and that the first three test CSeries are cleared to operate up to 41,000 feet and Mach 0.82. This means that all three test aircraft in service so far are cleared to operate in the the full range of performance test points in the certification program. Bombardier still plans for an entry into service date in the second half of 2015.
As of May 1st, the CSeries program had over 280 hours of flight testing completed, with the program needing to complete about 2,400 hours of flight testing to achieve certification from Transport Canada.
Bombardier has 203 firm orders for the CSeries with a goal of having the CSeries enter service in 2015 with a firm backlog of 300 orders.