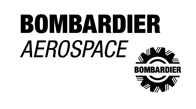 Bombardier Aerospace announced its deliveries and orders results for 2011 today.
For the 11-month period ended December 31, 2011, Bombardier delivered 245 aircraft and received 249 aircraft orders, net of cancellations.
Bombardier delivered 163 business jets and  received 191 orders for business jets. It delivered 78 commercial aircraft, and received 54 orders for commercial aircraft as well. Finally, the company delivered 4 amphibious aircraft and took four orders as well.
According to the company's news release, this was within the guidance the company issued at the beginning of 2011.