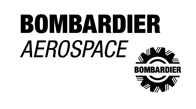 Bombardier announced today that the company's CSeries aircraft program remains on schedule with a deadline set for the end of June for all of the aircraft's various systems to be delivered for testing.
The company indicated that synchronized testing of all aircraft systems would begin at the company's facilities at Mirabel by July 10, 2012. By September 2012, all structural parts and components will be delivered to Montreal, and by the end of December 2012, the company expects that the first test flight aircraft will be complete.
Bombardier remains confident that their plan to have first flight of the CSeries to occur by the end of 2012 would be met, with entry into service in late 2013.