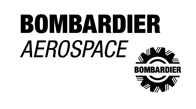 Bombardier released its third quarter 2012 results and confirmed that the first flight of the CSeries prototype aircraft is not expected to occur by the end of 2012.
As well, difficulties with the companies rail division, slowing orders and other charges meant that the company will face $150 million in restructuring charges in the fourth quarter of 2012 as the result of a 1,200 employee workforce reduction linked to the closure of a rail equipment plant in Germany.
The company's net income in the quarter ending September 30th, 2012, rose to US$212 million but its revenues came in less than analysts had expected. Revenue dropped to US$4.3 billion, down $300 million from the third quarter of 2011. Most of the decline was from Bombardier Transportation while revenue at Bombardier Aerospace fell slightly.
Bombardier also announced that there would be a delay in the first flight of the CSeries commercial jet until sometime in the first half of 2013. The company said that it now expects the prototype aircraft to have its first flight before the end of June 2013, which most analysts and those familiar with the program expected for some time.
"The CS100 aircraft's first flight will now occur by the end of June 2013 — a timeline that all parties have agreed is achievable… We will continue to give regular updates on the program, with a more detailed review during the first quarter of next year." Pierre Beaudoin, President and Chief Executive Officer said.
Bombardier's backlog of orders at the end of September was US$26.1 billion, up 18.6 per cent from the end of 2011. The company is actively seeking new orders from Delta Air Lines for 70 new regional jets, Indonesia's Garuda for 50 new turboprops, and orders from Continental, US Airways and American Airlines.