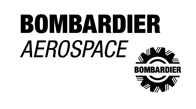 In several reported interviews, Bombardier admitted that the first flight of the prototype CSeries aircraft FTV-1 could likely slip into the first quarter of 2013. In more positive news, it was also announced that the first set of flight ready wings to be delivered to Bombardier will occur before the end of October 2012.
It is expected that complete assembly of the static test article will be completed by the end of October and then attention will turn towards the completion of FTV-1.
Bombardier has indicated that the first flight of the program is not as important as the initial in-service date to its customers and is driving the program to meet that stated date of the last quarter of 2013.
It is felt by executives of Bombardier that the more likely date of the program's first flight will be in the first quarter of 2013 when delays are taken into consideration.