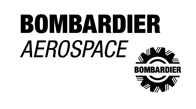 Bombardier Aerospace announced on December 6th, 2012 that an undisclosed customer in China had signed a purchase agreement for seven CRJ700 NextGen aircraft.
The interesting part of this announcement was that Bombardier's press release indicated that this sale would be a: "… great step in establishing the CRJ700 NextGen aircraft as an excellent special mission aircraft."
The question is, what does that mean exactly? It is possible that the aircraft will be used in a VIP capacity, but since other Bombardier aircraft, notably the Global Express, DHC-8 and CL-415, have been used in a military role, the same may occur with these aircraft.
No further information was released by Bombardier with regards to the planned use of the aircraft in question or who the operator would be.
More than 100 Bombardier aircraft, including CRJ Series and Q-Series commercial aircraft, as well as Learjet, Challenger and Global business jets, are currently operating in China.